The Women We Serve
Engedi Refuge is a program for adult women who have been victims of prostitution and trafficking. The women come to us after months of trauma, sometime multiple traumas a day at the hands of multiple people. Nearly all of our residents suffer from post-traumatic stress and many have developed other mental health issues including depression, anxiety, dissociation, sleep disturbances, bipolar disorder and substance abuse issues.
The residents of Engedi Refuge have often spent many years in "the life" - the street term for prostitution or trafficking. Often their early exposure to sexual exploitation began in their mid to late teens. Most of the women in our program are in their twenties and thirties, although our only age requirement is 18 or older. A high school education is often just a dream that has never seemed possible.
Our Model
We have found that love offered with grace and compassion changes everything. Everything we do is trauma informed and designed with restoration in mind. We provide Restorative Homes for safe housing and a Learning Center for education and counseling. Our program has 3 Phases for up to 11 women and can take up to 2 years to complete, based on the needs of the resident.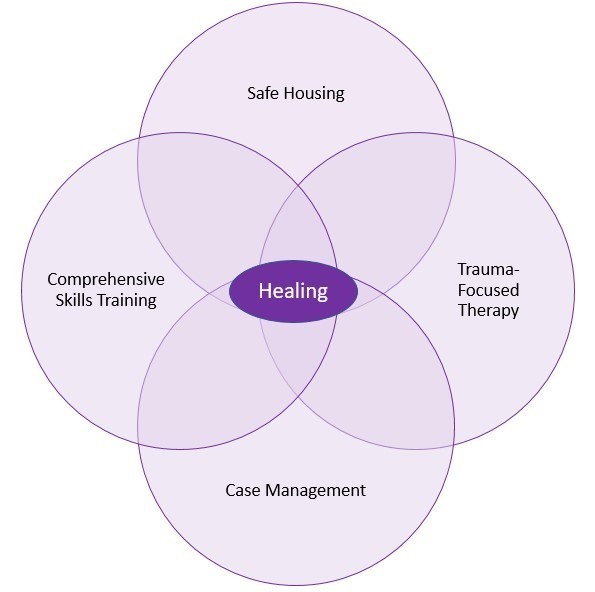 As of Fall 2018: We have seen lives transformed and remarkable success for Engedi residents.
*59 survivors have experienced love and supportive care at Engedi
Refuge
*2044+ nights of safe, supportive housing provided to women recovering
from life on the streets
*7,000 hours of counseling and therapy for survivors, addressing their
mental and emotional well being.
*90% of Engedi residents are experiencing lasting change and new
restored lives; free from sexual exploitation.